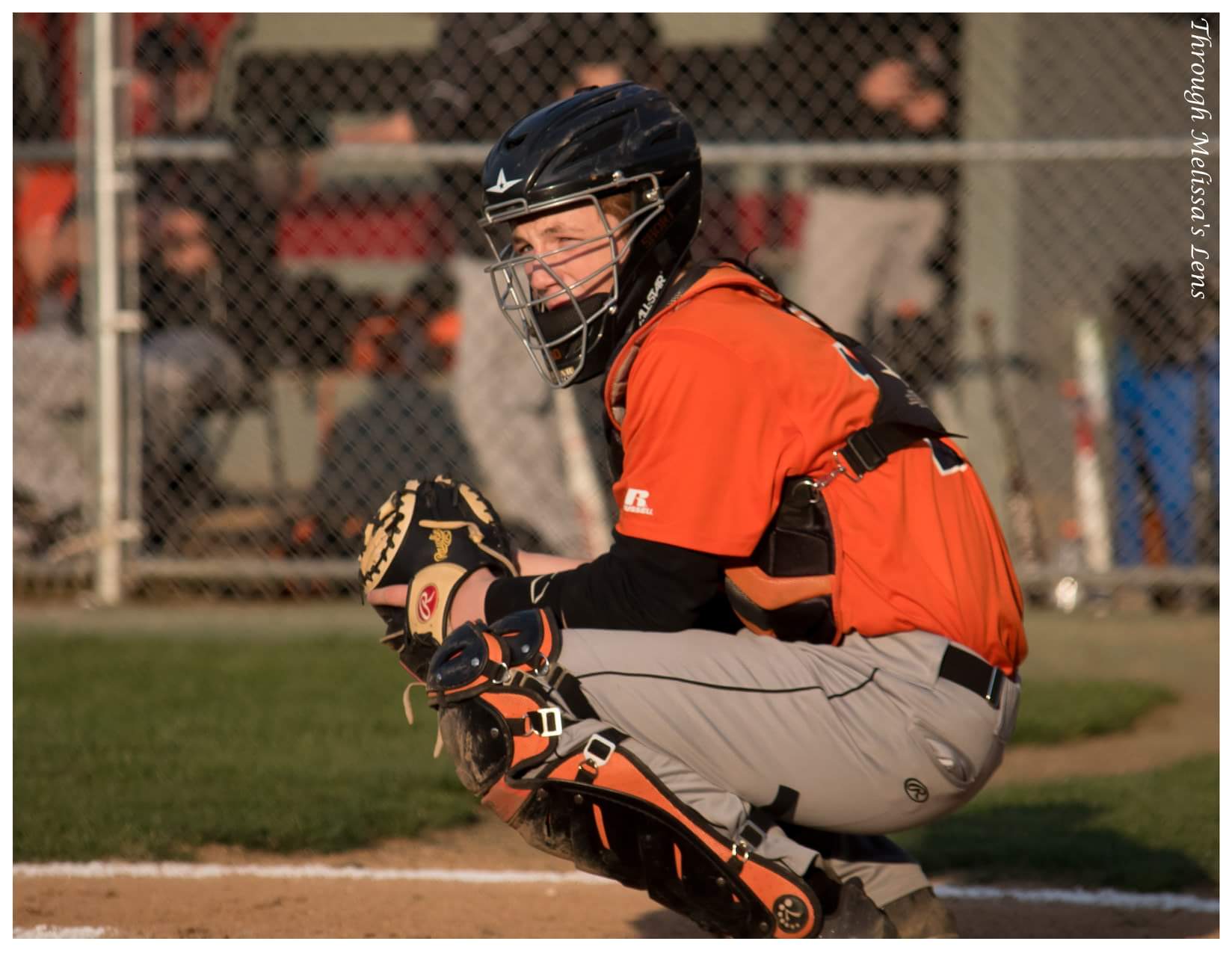 Watch here for scores, updates, photos and more!
 presented by…
WATCH IT LIVE via NFHS Network
EASY LINKS
Click on game you want to watch…
Thursday, May 31st
4:30PM    #1 Hurricane vs. #4 Martinsburg
6:30PM    #2 Saint Albans vs. #3 Wheeling Park
Friday, June 1st
10AM    #1 Bridgeport vs. #4 James Monroe
12PM    #2 Wayne vs.  #3 Frankfort
5PM   #1 Charleston Catholic vs. #4  Moorefield
7PM   #2 Wheeling Central vs. #3 Ravenswood
Saturday, June 2nd
CHAMPIONSHIPS
2016 Retro Game Reports…
Nitro Blanks Ripley to Advance to Finals
By RICH STEVENS
CHARLESTON, W.Va. – There are reasons to have your No. 8 batter sacrifice bunt to move runners to second and third with one out.
Faith in the No. 9 hitter of the lineup typically isn't one of those, especially in the semifinals of a state tournament.
Then again, Nitro first-year coach Joe Gayda is anything but conventional.
Sophomore Jason Douglas doubled in two runs with two outs in the sixth inning and senior pitcher Jacob Bradley used a bulldog effort on the mound to subdue the Ripley batters as Nitro advanced to its second consecutive Class AAA title game with a 3-0 victory over the Vikings (23-10).
"Mike Stone (No. 8 hitter) is a real mature hitter, but he's been struggling a bit lately," said Gayda, whose team earns a state title game rematch with Jefferson at approximately 4 p.m. on Saturday. "Jason Douglas has been one of our top hitters all year."
Gayda said it was a "secret" why Douglas was batting ninth with a .346 average and 20 RBI.
"It's awesome having a guy like that so they don't get a rest in the order," Gayda said. "We wanted to put some pressure on them. Jason hit some balls pretty well to left field, just got a little underneath. He just had to work on getting on top of the ball."
The teams were locked in a pitcher's duel and combined to go 3-for-23 with runners in scoring position.
Bradley wiggled his way out of trouble, as Ripley put the leadoff runner on base in four of the first five innings.
Ripley starter Chris Jordan was equally solid, although he walked five batters – two of which came in the sixth.
The inning began with a one-out walk to Eddie Flores. After Jake Williams walked on a full count, Stone hit his sacrifice. Douglas – a starter as a freshman with a .261 average and 17 RBI — followed with a double on a 1-0 pitch.
"He (Stone) gave me a great situation to drive in runs with runners on second and third and I just went with it," Douglas said.
Ripley coach Shane Casto, who has won state titles as a player (1997) and assistant coach (2004) with the Vikings, had an idea about Nitro's plan.
"I'm thinking they're trying to get to their nine hitter, we'd walk him (to set up the double play or force out) and they'd have their leadoff hitter coming up," Casto said. "That's not something you see a whole lot. We made a pitch, he (Douglas) hit a double off it and knocked in two runs. Hat's off to him."
The rest was up to Bradley, the younger brother of former Nitro star J.R. Bradley, who was selected No. 56 overall by the Arizona Diamondbacks in the 2010 Major League First-Year Player Draft.
Jacob Bradley threw 95 pitches with 65 strikes and his effectiveness never waned. Once he was given the lead, Bradley wrapped up the result quickly in the seventh, getting Gunnar Walsh to groundout on a 1-2 pitch. After Aaron Wilkinson reached on an error, Bradley needed just two pitches combined to retire Lane Casto on a groundout to third and Jordan to line out to second base.
"My guys played great defense behind me," said Bradley, a Marshall signee who will complete his high school baseball career with a 27-3 record. "Got my guys picking me up and we got out of a few jams."
Cody Pittenger had a pair of hits for Ripley, which left seven runners on base. Jordan had a pair of stolen bases, but was left stranded.
Ripley's best chance to score came in the fifth when Lane Casto led off the inning with a double. However, Jordan grounded to shortstop Andrew Stone, who turned and flipped the ball to third base to get the lead runner.
Nitro is competing in the state tournament for the eighth time in the last 10 seasons with two championships (2008, 2010) and four runner-up finishes (2009, 2012, 2015). Last season's championship-game loss came to Jefferson, which has defeated the Wildcats in each of their two tournament meetings. The Cougars earned a 2-1 victory last year in the finals and a 13-7 verdict in the 2011 semifinals.
Jefferson Takes Down Wheeling Park
By RICH STEVENS
CHARLESTON, W.Va. – There's nothing fanciful about the Jefferson High School baseball team.
Still, as expected, Friday was another day at the park for the 11-time West Virginia Class AAA state champions, who rode the efficient pitching effort of Bradley Davis to a 5-0 state tournament semifinal victory over Wheeling Park (14-13) at Appalachian Power Park.
The win sends the Cougars (35-3) to the title game at approximately 4 p.m. on Saturday against the winner of the Nitro-Ripley game.
The Patriots, meanwhile, saw an end to their school-record third consecutive visit to the final four with a third straight semifinal defeat.
Despite the victory – which gives coach John Lowery a 1,257-322-3 career record – there were moments of trepidation for the Cougars, who were protecting a 2-0 lead through six innings despite a 10-4 advantage in hits. Jefferson left eight runners on base.
"That's what I said, we hit the ball well today, but I would have liked to see a few more runs," Lowery said.
"When you don't get walks to go along with those hits, you can give up some hits. We didn't really string them together. I think getting the one run in the first inning helped."
Jefferson starting pitcher Bradley Davis made it stand up with an efficient 82-pitch outing that featured just four hits, six strikeouts and no walks.
Senior shortstop and Virginia Commonwealth University recruit Paul Witt and first baseman Charlie Barnholt had three hits apiece for the Cougars.
Witt is batting .504, while Barnholt owns a .372 average.
"I feel good about what I've accomplished this year, but it's comforting to have my teammates helping me," said Witt, who was a combined 2-for-6 in two state tournament wins last season.
Jefferson, which opened in 1972 and has had Lowery as its only coach, extended the lead in the third when Witt hit his third triple of the season, followed by an Austin Bulman sacrifice fly.
In the interim, Wheeling Park couldn't break through against Davis, but was given little opportunities to score in leaving three runners on base.
"It's tough," said Wheeling Park coach Mike McLeod, whose team had seven seniors who were playing in their third state tournament with a 3-2 loss to Riverside in 2014 and a 2-1 defeat to Nitro last season. "You try to battle, you try to put the ball in play. When you get to this level, it's not going to be easy offensively against your Nitros and your Jeffersons of the world. Sometimes two runs is good enough, sometimes it's not. Sometimes one run is good enough. You  just have to battle until the end."
Jefferson finally pulled away in the seventh behind a Bulman two-run single and an Austin Cross sacrifice fly.
Davis wrapped up the victory in the seventh by enticing a groundout from pinch hitter Zac Hickman.
The loss ended a five-game winning streak for the Patriots, who hadn't given up five runs to a West Virginia opponent since dropping a 13-6 decision to Brooke on April 20. Wheeling Park swept the Bruins in the sectional tournament.
White Falcons Shut out Hillbillies
By RICH STEVENS
Phillip Hoffman is a man of few words, but one of many, many strikes.
The Wahama senior ace struck out 18 Man batters on Friday afternoon in a dominating and decisive performance in a 3-0 Class A semifinal victory over the Hillbillies in the West Virginia State Baseball Tournament at Appalachian Power Park.
Hoffman, whose team will face Wheeling Central (18-9) in the state title game at approximately 1 p.m. on Saturday, gave up only two hits and didn't walk a batter. In fact, Man's first six outs came via the strikeout.
"You saw about the fourth inning on, you talk about a groove," said Man coach Larry Vance, whose team won the 2014 title and fell in last year's finals 7-0 to the White Falcons (21-11). "He was getting it and striking everybody out on 10 or 11 pitches it seemed like. It wasn't like he was throwing 20 or 21. You have to tip your hat."
Hoffman threw 87 pitches with 69 being strikes (79.3 percent). In the fifth inning, Hoffman struck out the side on nine pitches and faced only two batters over the minimum. He surrendered a triple to Kenny Jo Adkins and a single to Tyler Blair.
For the season, Hoffman has 162 strikeouts in 79 innings – 2.05 strikeouts per inning. The former Federal Hocking (Ohio) standout who has a 2-0 record in West Virginia state tournament games, said his fastball was clocked at 88 miles per hour last year.
The senior also said he threw just two breaking pitches and one changeup, leaving the other 84 deliveries to the fastball.
"Coming in, I knew they couldn't hit the fastball very well, so that's what I stuck with," Hoffman said.
The White Falcons couldn't get far against Man starting pitcher Jake Adkins, who was making his third start in a state tournament. However, with one out in the fifth, Ricky Kearns had an infield single, and leadoff hitter Colton Arrington followed with a sacrifice bunt. The throw from the catcher was wide for one of three Man errors. A Jared Nutter bunt was fielded by Adkins, but the throw came off the glove of second baseman Austin Gent and into right field, allowing two runs to score.
Wahama tacked on an insurance run with a Jared Nutter sacrifice fly in the sixth.
Hoffman continued to go right at the batters for Man, with two more strikeouts in the sixth sandwiching a Cameron Simpson fly out to deep center field. He opened the seventh with a five-pitch strikeout of John Thomas Keffer and finished the game by catching Blair looking.
"He actually got in trouble earlier in the year by not going with his best stuff," Wahama coach Tom Cullen said. "He said, 'It won't happen again, coach.' Until they start hitting that, he's sticking with it."
Cullen said the most recent standout performance for Hoffman came in a 2-0 regional semifinal victory over Charleston Catholic.
"He was rocking and throwing like this," Cullen said. "We had a game against Trimble, one of the best teams in our TVC (Tri-Valley Conference), and he had 18 strikeouts against them. If you would've told me that I would've thought you were crazy. Then, in the sectional, he struck out like 18.
"He was locked in today."
 Wheeling Central Stuns Pendleton County in Seventh
By RICH STEVENS
CHARLESTON, W.Va. – A modest Pendleton County contingent sat with mouths agape and not a sound.
The Wildcat following was anticipating a celebration for the baseball team's first state tournament championship appearance since winning the title in 2004.
Instead, they saw the most unlikely scenario.
The facial expressions and excitement took a 180-degree turn after Wheeling Central's Brian Campbell stroked a Trey Cooper pitch to left field to score Tyler Riedel with two outs, capping a five-run seventh inning and a 10-9 victory over the Wildcats in the Class A State Baseball Tournament semifinals at Appalachian Power Park on Friday.
Wheeling Central (18-10) moves to the title game at approximately 4 p.m. on Saturday against the winner of the Wahama-Man semifinal.
The Wildcats (25-10), meanwhile, watch their season end for the third time to Wheeling Central since Pendleton County High School was created with the 1998 consolidation of Circleville and Franklin.
"That's a good hitting baseball team over there," said Pendleton coach Sam Yokum, whose 2004 team won the state championship. "They're relentless. We had the opportunity to put up more runs and make it a bigger lead, but we squandered some opportunities, left some guys on third and in scoring position. It's a tough one."
The Wildcats made it look easy early, scoring two runs in the first and five in the third to own a 7-2 lead. Two more runs in the sixth were answered by two Wheeling Central runs in the bottom of the inning, setting up the seventh-inning heroics.
Wheeling Central got to Pendleton ace Tim Heavener, who gave up nine earned runs, with the last four tying the game in the seventh. Campbell belted a pitch from Cooper – one of three brothers on the Pendleton squad – bringing Riedel home.
Campbell, coach Jamey Conlin's cleanup hitter, was 3-for-5 with two RBI.
"I wanted to do that for them, that's all for them," Campbell said of his teammates. "Not one person in that dugout had their head down. You could walk through that dugout 1,000 times and nobody would have their head down. We kept hearing it from everybody, 'just fight, just fight.'"
Both teams were seeking a return to prominence, with Wheeling Central's absence from the state tournament lasting four years. Conlin is in his second year guiding the Knights after serving as an assistant under Jimbo Wodusky for 12 seasons.
Wodusky's Knights won the 2011 championship.
"We're a strong team mentally than we were a year ago," said Conlin, whose team has won five games by two runs or fewer and one other by one run. "They don't give up, they had good at bats, we were smart on the bases there."
Wheeling Central had five errors, providing five unearned runs for Pendleton County.
"We didn't play that well defensively, but, at this point, we found a way to overcome that," Conlin said.
Both teams had 12 hits, with Wheeling Central's No 9 batter – Kevin Keane – finishing with two hits and two RBI. No. 8 hitter Chris Furka had a single and two RBI and the Maroon Knights' 1-5 batters combined to go 9-for-19 (.474) with six RBI and four runs.
Wheeling Central relief pitcher Brian Shaw relieved in the third inning and gave up two runs – one earned – with five strikeouts and two walks. Prior to leaving the mound, Heavener walked seven batters with only three strikeouts in six innings.
"I can't say enough about the job Brian Shaw did," Conlin said. "He really held them at bay. Even though they scored some runs with more defensive miscues. (Starter) Tyler (Riedel) has been our stud all year. He didn't quite have it today."
Luke Cooper had two hits and three RBI for Pendleton and Tim Thorne added two hits and two RBI.
Pikeville Advances over Wayne
By RICH STEVENS
PikeView's ridiculously low team earned run average was improved during the semifinals of the West Virginia Class AA State High School Baseball Tournament.
The Panthers recorded their 10th shutout of the season on Levi Nash's three-hitter in a 4-0 verdict over Wayne on Thursday night at Appalachian Power Park.
The win sends PikeView (23-3) to the double-A championship game at 10 a.m. Saturday against two-time defending champion Bridgeport. The Panthers dropped a 17-7 decision to the Indians in the 2015 semis.
Another 10-run loss seems out of the question for the 2016 Panthers, who suffered only one double-digit defeat – an 11-1 decision to Class AAA Greenbrier East on April 5. PikeView is riding a 15-game winning streak with its only loss to a non-Class AAA team being 7-5 to Bridgeport on April 16.
"It's a pitching staff, you see them grow as the year went on, their strikeouts have actually gone down," said PikeView coach Josh Wyatt, whose team's ERA dropped from 1.07 to 1.02 with just 24 earned runs in 164 innings. "They're very reliant on their defense, throw strikes and let them make plays. Levi did that."
Nash received early help, with No. 3 hitter Jon Clark stroking a one-out single to score leadoff hitter Carter Shrewsbury. Shrewsbury added a run-scoring triple in the second as part of a 3-for-3 day.
Wayne (23-11-1) recognized the benefits of being a team that plays small ball against a team that relies on its defense – hit the ball on the ground and anything can happen.
Unfortunately for coach Todd Ross and the Pioneers, it was PikeView's pitching which overcame. Ten of Wayne's outs were on flyballs, trumping the Pioneers' best intentions in their first trip to the state tournament since 2002.
Ross was in his third season as an assistant coach to West Virginia Baseball Coaches' Hall of Fame member George Brumfield when the Pioneers made their last trip to the state tournament. That year Wayne beat Summers County 12-10 in the semifinals before falling to Winfield in the title game 11-2.
He coached now-defunct Vinson to the 1997 Class A championship and became head coach at Wayne in 2006.
"He kept us off balance," Ross said of Nash. "We came into this game wanting to hit the ball on the ground, but you get in a big setting like this and the bat lags behind, you pull your shoulder … we had too many popups."
Isaiah Thompson, Brad Sharp and Cody Noe had hits for Wayne in the game that lasted just one hour, 39 minutes.
Nash's ERA tumbled to 0.97, which is still more than double the earned run average of PikeView's starter for Saturday – Michael Rotenberry. Rotenberry owns an 8-0 record with a 0.48 ERA. He owns victories against Princeton and South Charleston and went five innings against Class AAA state tournament participant Nitro in a game that was tied at 1 when it was halted because of lightning.
"I know our team has a pretty good pitching staff and I do my best to help it," Nash said.
The Panthers have 209 strikeouts and only 59 walks this season under Wyatt, who was a first team Class AA All-State pitcher for PikeView with an ERA at 1.95 as a senior in 2002.
Game report coming soon.
 Bridgeport vs. Braxton County
By RICH STEVENS
For Bridgeport High School baseball coach Robert Shields, the best way to celebrate his earning a spot in the West Virginia Baseball Coaches' Hall of Fame is to win another state championship.
And so it goes for one of the elder statesmen in West Virginia's coaching ranks, whose Indians had a pair of four-run innings to defeat Braxton County 10-0 in the semifinals of the state tournament on Thursday at Appalachian Power Park.
Shields has won four state championships in 29 seasons in the Bridgeport dugout and will try to make it five in 30 when the Indians (29-6) play in the Class AA title game at approximately 1 p.m. on Saturday against the winner of the Wayne-PikeView semifinal contest.
"I have a lot of relatives and friends back home that give me a lot of doggins' (about the Hall of Fame)," said Shields, whose career record is 734-28. "This is more important than a hall of fame, winning a third straight championship. It's more about them. Without (the kids) doing it, that doesn't mean anything."
The Indians threatened immediately by loading the bases on three walks against a visibly nervous Braxton starter Seth Backus. Backus settled in, but Bridgeport broke open a scoreless game in the third with four runs.
While the bats of both teams were swinging freely and nine of Bridgeport's runs were earned, the teams combined for only five strikeouts in 28 at bats.
"With the pitcher, it's all a mental game," said Braxton coach Jacob Wolfe, in his fifth season and first state tournament appearance since taking over for Bill Morlan.
The Eagles (22-11), who reached the final four for the first time since 2011, put the ball in play, but couldn't find many holes in the pinpoint Bridgeport defense.
In fact, the game ended in the fifth inning on a 5-2-3 double play – the Indians' second of the game.
"I'm use to that, that's been my whole life, they always back me up," said Bridgeport pitcher Hunter Haddix, a 2015 All-State first team member who pitched the last three innings and picked up the victory in Bridgeport's 17-7 state semifinal win over PikeView last year. "I'm not really a strikeout pitcher. I make them ground out with a curveball and two-seam and stuff. They always have my back. There's nothing different.
"I've played with these guys since I was 13 years old, so I'm used to that."
Bridgeport sandwiched a two-run fourth with four-run innings in the third and fifth. The Indians' 1-2-3 hitters were 5-for-7 with six runs and three RBI. Elijah Drummond had a double and three RBI and the top six Bridgeport batters didn't strand any runners.
On Saturday, Bridgeport will try for its third straight state title and fifth as a Class AA program.
The Indians reached the Class AAA championship game in 2010 where they dropped a 6-0 decision to Nitro. That's the same season Braxton won its only state title.
Bridgeport  004      24        —         10        10        0
Braxton County      000      00        —         0          3          2
Hunter Haddix and Drew Hefner; Seth Backus, Brent McMillion (4) and Troy McMillion.
WP – Haddix; LP – Backus.
Hitting: Bridgeport – J.T. Harris 2-3, Hefner 2-3, 3RBI; Elijah Drummond 2B, 3RBI; Gordon Swiger 1B, RBI; Braxton – Cameron Long 1B; Tayton Stout 1B; Robbi Goodnight 1B.
Records – Bridgeport (29-6), Braxton County (22-11).
West Virginia State Tournament: Class AAA Preview
Wed June 1, 2016
By Greg Williams
PBR West Virginia Director of Scouting
A total of 48 teams began regional play last week and 12 remain as the West Virginia state tournament prepares to kick off on Thursday at Appalachian Power Park in Charleston. Today we preview the four teams that will compete for an opportunity to be crowned Class AAA state champions for 2016.
Preseason Flashback:
First the bad, we fanned on Region 1 where we thought the loss of Wheeling Park ace Michael Grove to graduation (now at WVU) would be too much for the Patriots to overcome. We were wrong. And for the good, we nailed the other three region winners to finish with a .750 batting average in Class AAA. CLICK HERE to view our complete 2016 preseason region previews.
Class AAA

Wheeling Park (14-12)


The Patriots are returning to the state tourney for a third straight season. Junior RHP Austin Crebs has picked filled the role of ace for a staff that had the luxury of turning to right-handed pitcher Michael Grove, a West Virginia freshman, in the semifinal round the past two years. Crebs will also be showcasing his abilities at the Western PA Top Prospect Games on June 14 and 15.
Jefferson (33-3)


The Cougars look to repeat in Class AAA and sport a team ERA of 1.17, nearly identical to the ERA posted by their state championship pitching staff in 2015. Left-handers Bradley Davis (10-0, 0.82 ERA) and Austin Cross (9-1, 0.58) give the Cougars a dominant 1-2 punch on the hill.
Jefferson is nearly as dominant offensively with led by senor shortstop Paul Witt, a VCU signee, hitting .514 with 33 RBI and 54 runs scored. Junior Austin Bulman has been just as impressive hitting .520 average with 46 RBI and 34 runs scored.
Nitro (24-10)

The Wildcats are led by a strong pitching staff that includes senior right-handers Jacob Bradley (9-1, 1.07 ERA) and Andrew Stone (7-1, 0.94 ERA). Bradley (Marshall) and Stone (West Virginia State) will be taking their talents to the next level next year.
Matt Harrison (.388, 24 RBI, 29 runs scored) and Stone (.379, 21 RBI, 44 runs scored) lead the Wildcats offense. Senior catcher Matt Jewell (.337, 40 RBI) is one of the top defensive catchers in the state and has the ability to shut down opposing team's running games. Harrison will join Bradley next year at Marshall while Jewel is a Wright State signee.
Ripley (24-11)

The Vikings return to the state tournament for the first time since winning a title in 2004. Christopher Jordan (9-1, 1.31 ERA) and Luke Layhew (5-3, 2.46) front the Ripley pitching staff.
Jordan, a West Virginia State signee, also leads the Vikings offense (.586, 39 RBI, 52 runs). Junior Anthony Jarvis, and seniors Cody Pittenger (Surry CC) and Jared Bumpus (Glenville State) have also produced for a potent offense that has hit a combined .360 on the season.
More Season and State Tournament news at PBR West Virginia