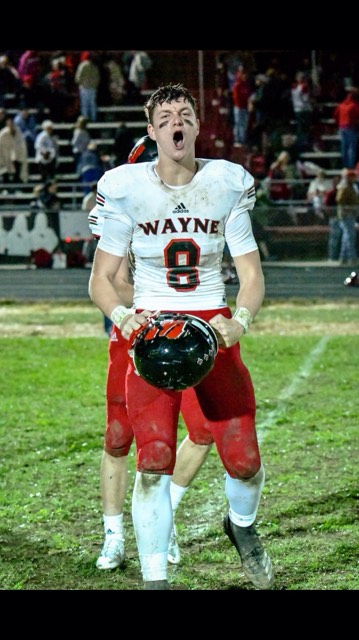 Each year across West Virginia there are an almost certain set of tragedies that become part of our communities as young lives are lost even before their prime.  Through various situations, young people and entire schools are forced to deal with the grief of losing a classmate and teammate. From Roane County to Beckley to Capital and Tyler County in recent months.  
Most Recently the loss of Herbert Hoover graduating seniors Khloe Barker and Frank Early just days apart after receiving their diplomas on the previous Monday. See WCHSTV story here
How the schools and their communities deal with it is important.  How the family perceives that support is even more important. Enter the life and tragedy of Colt  Adams and Wayne, WV.
At 6'5" and 205 lbs, Wayne Pioneer's Colt Adams #8 was a daunting image for opposing players to go against in the fall of 2018.  The sophomore phoneme had come into his own (tight end and linebacker) and was helping lead the resurgent Pioneers back to the class AA playoffs where they were used to being.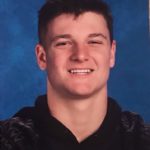 Colt Adams.
Wayne High School
Wayne is like many West Virginia small communities where everyone knows everyone and Friday nights are as much a social event as a sporting one.   The community comes together around the success and struggles of the football team.  "There's nothing like the love and heartbeat of a small town and football binds it together." – Rhonda Adams.
When the Pioneers and the family of Colt Adams finished their playoff run in November of 2018, no one could have imagined what lie ahead.  Life is like that.  God spares us from what we don't want to imagine. Basketball season came and Colt Adams played his big man role for the Pioneers.  He maintained a 4.0 GPA   He celebrated Christmas and a New Year with his family and the community.  "You'd see him loading up his X-box and even the TV in the car and heading to a friend's house to play," his mother, Rhonda Adams said. His father, George Adams told RSN, "He loved to razz his friends and have a good time. He also had a big heart and that was exemplified by the many friends he had."
In many ways Colt Adams represented the poster athlete of any West Virginia high school football team.  Tall, strong, talented, personable and giving.  That's what fans love to see in their hometown heroes. For the Adams family and the Wayne Pioneer community that persona came to a tragic halt in May 2019.   "It was a normal day.   The day after Memorial Day and finishing up the school year.
  I was off work that day and Colt got up and agreed to drop his 9 year old sister off on the way to school.  He told me how much he was excited about the upcoming football season and they were going back to states.  He then told me he loved me and kissed me goodbye," his mother told RSN Sports.
Ten minutes later Rhonda Adams got the call no parent ever wants.  The children had been involved in a tragic accident.  "That day was a whirlwind.  I arrived at the scene and they wouldn't let me near the vehicle.  The next thing I'm at Cabell Huntington Hospital and surrounded by what seemed the entire community… coaches, players, fans, everybody was there.  That's how I kept going."   Rhonda Adams said.  That is Wayne, WV.  That is any given community in West Virginia.
Colt's father George added, "When I say Colt was from Wayne, he was where he was supposed to be.  When I witnessed the thousands that turned out for his funeral it was clear." What makes that statement even more profound is that the Adams are from Grayson, KY.  They have no extended family in Wayne, WV.
The heat of summer came and the pain of never having a normal day set in for his parents and siblings sisters Peyton, Maelynn and Shelby .  "That's the thing I want people to realize is that I crave normal.  No special holidays.  Just a normal day with Colt in it," his mother told us.  
Colt's younger sister, Peyton, suffered severe injuries in the crash and continued to undergo surgeries to heal.  Like many families suffering the same fate before them, healing is an elusive thing. As with many high school communities that have suffered similar tragedies, the 2019  and 2020 football seasons came at Wayne and it was clear that the community would never be normal again.  Fundraisers and ceremonies were conducted and the team has done much to hold onto a leader that was cut short of his prime.  
 Teammates and peers still get together for his birthday and important dates.   At least two scholarships have been set up in Colt Adams' name. "Eight the Great.  You see it everywhere now when you're around town," George Adams pointed out.   His mother added, "My biggest fear is that he becomes forgotten."  Her fear isn't alone.  Across West Virginia and many small towns in our nation, there are parents that hold onto the same cherished memories and the comfort that their child made a difference.  That they do.  Their spirit lives on in the lives of those they touched.   
For 16 year old Colt Adams, he brought together an entire community.  Then it manifested good in opposing teams.  Now the towering 8 The Great from small Wayne is known across West Virginia and the Mid Atlantic. Colt's mother stated, "He loved life.  Every second of it."  This week was Colt Adams' turn to graduate high school but Eight the Great will be looking down from heaven with a smile as he watches his classmates carry his legacy outward from Wayne, WV and into the world at large.
From the family and friends of Colt Adams…
Colt Adams Memorial Bluegrass Festival                    
CAM FEST 1st weekend of August every year.  This year it will be Aug. 4–Aug. 7th at Mandolin Farms Campground in Flemingsburg, KYWebsite is www.coltadamsmemorial.com
If anyone would like to help support the memorial fund to honor Colt's memory and help others, tax-deductible donations can be sent to:
Colt Thomas Adams Memorial Fund C/O Sheila Porter 61 Porter Road Grayson, KY 41143
The money raised from the festival and donations to the memorial fund is used to help so many families in need. Colt had such a kind and giving heart and always wanted to help others. So to honor him, we provide 4 scholarships every year to high school students. We have been blessed to be able to donate money to help families with children who have cancer and childhood illnesses. We have made donations to the Cystic Fibrosis and Autism Foundations to honor some family and friends. We have also provided food, clothing, and Christmas gifts to families in need of some extra help and support.