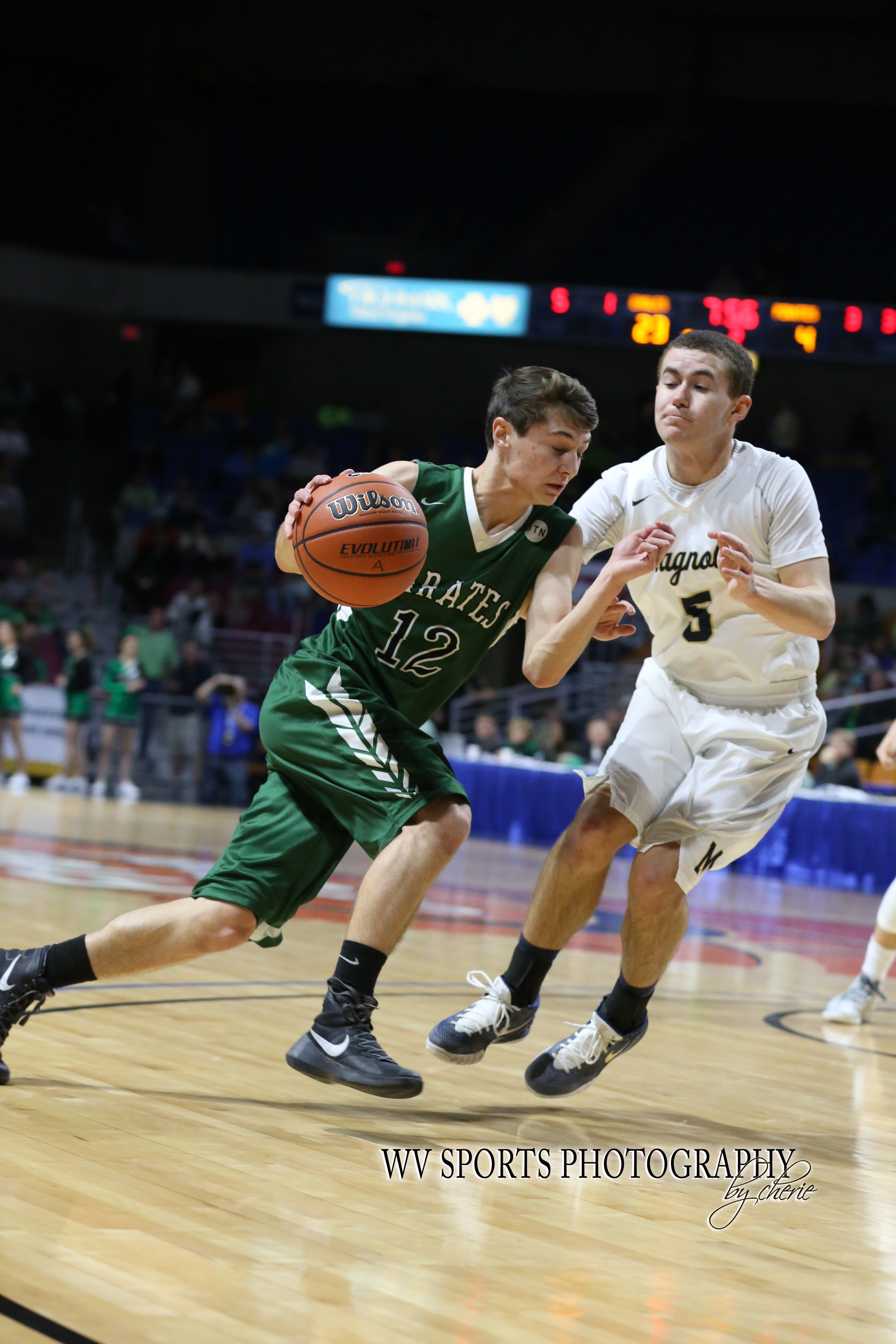 Cover photo by WV Sports Photography
WATCH LIVE PPV GAMES!
EASY LINKS
$9.95 gets you all tournament games produced by NFHS Network including championships!
Click on your game goes direct to site…
RSN production presented by
QUARTERFINALS
Wednesday
9:30 AM (3) Westside vs. (6) Winfield
11:15 AM  (2) Parkersburg South vs. (7) Musselman
1 PM  (2) Chapmanville vs. (7) Bridgeport
5:30 PM  (1) Fairmont Senior vs. (8) Braxton  County
7:15 PM  (1) University vs. (8) Morgantown
9 PM  (4) Philip Barbour vs. (5) Bluefield
Thursday
9:30 AM   (3) Tug Valley vs. (6) Greater Beckley Christian
11:15 AM  (4) Martinsburg vs. (5) Woodrow Wilson
1 PM  (2) Ravenswood vs. (7) Webster County
5:30 PM  (1) Wheeling Central vs. (8) Tyler Consolidated
7 :15 PM  (3) George Washington vs. (6) Huntington
9 PM  (4) Notre Dame vs. (5) Trinity
SEMIFINALS
9:30 AM  (6) Winfield vs. (2) Chapmanville
11:15 AM  (3) Tug Valley vs. (2) Ravenswood
1 PM   (1) Fairmont Senior vs. (4) Philip Barbour 
5:30 PM (1) University vs. (4) Martinsburg
7:15 PM  (1) Wheeling Central vs. (5) Trinity Christian
CHAMPIONSHIPS
7:15 PM  Class AAA Championship

2017 Tournament
Wednesday Games
9:30AM    Madonna vs. Fayetteville 
11:15AM   Martinsburg vs. University 
1PM          St. Joe Central vs. Ravenswood
5:30PM    Valley Fayette vs. Wheeling Central
7:15PM    Parkersburg South vs. Capital
9PM        Gilmer County vs. Notre Dame
Thursday Games
9:30AM      Wyoming East vs. Chapmanville 
5:30PM      Herbert Hoover vs. Fairmont Senior
7:15PM     Musselman vs. Huntington
9PM          Mingo Central vs. Philip Barbour
Friday Semifinal Games
9:30AM  FHS/Madonna vs. SJHS/Rwood
11:15AM     CRHS/WEHS vs. LHS/Bfield
1PM            VFHS/W Central vs. Gilmer/N.Dame
5:30PM      P South/Capital vs. GW/Motown
7:15PM       Hoover/FSHS vs. Mingo/P.Barbour
9PM            Mburg/University vs. Mussel/Htown
Saturday Finals
12PM       Class A Championship  (included in NFHS subscription)
2:30PM   Class AA Championship  (included in NFHS subscription)
7:15PM    Class AAA Championship (included in NFHS subscription)
BRACKETS, SCORES, UPDATES & MORE
2017 Tourney Brackets presented by…
Huntington Takes AAA Crown Once Again
By RICH STEVENS
Huntington coach Ron Hess watched Tavian Dunn-Martin graduate and contribute heavily to the University of Akron basketball program after helping the Highlanders win two state championships.
Wondering how his team would respond, he welcomed the return of John Dawson, who won a Class A state title with St. Joseph Central in 2016.
It was back to business as usual for the Highlanders, who turned away Capital in the Class AAA title game on Saturday, claiming a 50-42 victory on Saturday night at the Charleston Civic Center.
The state title was the fourth for Dawson, who won three with Huntington (2014, '15, '17) and one with St. Joseph (2016).
"It's just unreal," Hess said. "We lost our starters and, not sure of what we had, they believed.
"We talked about it last night after our semifinal win. If want to have a chance we have to take care of the basketball and they did tonight."
The Highlanders (23-5) had only eight turnovers to 21 for the Cougars (23-5), who seemed to settle for the 3-pointer, going 3-of-17 from long range. The Highlanders were only 1-of-13 from long distance and even lost the rebounding battle by a resounding 45-27 difference.
"(Jadon Hayes) is why we had only eight turnovers," Hess said. "He has to match up with them speedy wise and he did tonight."
As a point guard, Hayes had six assists and nine rebounds for the Highlanders. He didn't attempt a shot, but also had only one turnovers.
Leondre Rogers kept Capital close in the nip-and-tuck affair, finishing with 18 points as the only player on his team to score in double figures. He also was 10-of-10 from the foul line. Anthony Dean, a former George Washington High School standout, finished with nine points and was 5-of-8 from the foul line.
John Dawson, the twin of 2016 girls basketball state player of the year Jordyn Dawson, had 15 points for Huntington. Their brother, Mikal Dawson, led all scorers with 25 points and 10 rebounds for Huntington.
The low-scoring Class AAA affair featured two teams that combined to hit only 4-of-30 attempts from 3-point range.
'
Notre Dame Rises To the Top of Class A
By RICH STEVENS
Considering the energy with which Notre Dame played at the outset of its State Boys Basketball Tournament semifinal against Wheeling Central, it was surprising the Irish had any left.
They did … and then some.
Coach Jarrod West's team hit 9-of-14 attempts from 3-point range in the first half, riding that momentum to a 63-55 victory over second-seeded Ravenswood (24-3) in the Class A championship game on Saturday at the Charleston Civic Center.
"What a game," West said. "That first half was one of the best, if not the best, we played all year. At halftime, all we put on the board was 'finish.'"
The fifth time proved to be the charm for No. 4 Notre Dame (23-5), which earned a semifinal berth only once in its previous four trips to states:
n  2013 – No. 8 seed, lost to Tug Valley, 87-62, in the quarterfinals
n  2014 – No. 2 seed, lost to Charleston Catholic, 50-38, in the semifinals
n  2015 – No. 6 seed, lost to Magnolia, 49-48, in quarterfinals
n  2016 – No. 4 seed, lost to St. Joseph, 54-50, in quarterfinals
The Irish tried to ice this one early like the semifinal against Wheeling Central, during which they led by eight after the first quarter, 14 at halftime, 16 after three and 22 at the final buzzer.
Notre Dame scored the first 10 points of the game and the first six of the second quarter to lead 30-14. It also had the last five of the half to lead by 22 at the intermission.
Ravenswood had 11 turnovers before halftime, resulting in 22 points for Notre Dame.
"We played pretty quick before, but our problem was we didn't center ourselves and pass it back," Ravenswood coach Mick Price said. "We tried to dribble (through) the pressure.
"My fear was being able to handle the pressure. I thought if we could handle the pressure and limit them to one shot, we would be fine, but we were always playing left-handed, because we dug ourselves a hole."
Ravenswood had only four turnovers in the second half and pulled within seven with 1:28 remaining on a Jayden Rhodes 3-pointer. The Red Devils regained possession and went inside to 6-foot-7 Riley Heatherington, who had the ball stripped by West for one of his four steals.
"You can't afford to not be a good defensive player, especially at 5-foot-10," the younger West said. "He was giving us issues. He was in the lane for a long time; I was screaming '3 seconds.' I got my hand on the ball, Jaret (Mullooly) cleared it and he made two free throws."
Notre Dame outscored its state tournament opponents 58-40 in the first quarter and 109-70 in the first half, getting the most resistance from quarterfinal foe Gilmer County.
Ravenswood, however, was playing in its third straight state tournament and 13th overall, while also dropping from Class AA, where it resided since the three-class system was implemented in 1959.
At the Ravenswood helm for all but one of the last 40 years was Price, who coached the Red Devils to double-A titles in 2006 and 2008.
"They adjusted, played a little small and Riley (Heatherington) was a handful," coach West said. "We made enough shots and enough stops to win a state championship. You have to be gritty and you have to be tough."
Senior and Marshall University recruit Jarrod West – the son of the Notre Dame head coach — was playing in his seventh state tournament game and the only teammate who was with him all the way was senior Noah Bohanna, who hit all three of his shots and added three rebounds and two steals before fouling out with 1:58 remaining.
West finished with 29 points, six assists and four rebounds. In three games, he had 80 points on 27-of-44 shooting (61.4 percent) with 19 rebounds, 19 assists and 18-of-25 from the foul line.
"He's good," Price said emphatically. "He makes everybody else better, he can get to the lane and create, defensively he can get you from behind, tries to get out in front. He's just a really good athlete and really good player. He's as good as anybody in any class."
Ravenswood received 25 points and eight rebounds from Heatherington, who was his team's only double-figure scorer. Five other Red Devils scored at least five points.
Gabe Zummo had 15 points and four assists for Notre Dame, which owned one state championship – the 1977 Catholic Tournament title in its final year of existence.
"I can't believe I just played my last high school game," West II said. "It couldn't end any better. We were down here three other times and we couldn't get it done then. The fact that I was able to produce and finish it off … that's been the goal for I don't know how many years."
His father is a native of Mississippi, but played collegiately at West Virginia University and is best known for banking in a last-second 3-pointer to lift the Mountaineers over Cincinnati in the 1998 NCAA Tournament.
"This surpasses the shot I hit in 1998," coach West said. "To do this with your son is unbelievable."
 Notre Dame Moves Past Wheeling Central
By RICH STEVENS
The scorebook says Notre Dame still leans too much on point guard and Marshall University recruit Jarrod West.
Don't believe everything you read.
West poured in 35 points and added six rebounds and four assists to lead the fourth-seeded Irish to the second state tournament title game in school history with a 73-51 victory over No. 1 Wheeling Central (24-3).
Notre Dame (22-5) set a school record for victories in a single season and will face No. 2 Ravenswood at noon Saturday for the tournament championship, marking the first time since 1977 the Irish has reached the final. West came up one point shy of his single-game career high in scoring.
"You have to knock the bully out," Notre Dame coach Jarrod West said of Wheeling Central, which has played in 19 title games as a Class AA and Class A school, winning 12 championships – including nine in single-A. "I have so much respect for that program. We want to get to where they are."
Notre Dame played in six Catholic Tournament title games (1959, '61, '62, '71, '72' 77), winning the 1977 title in a four-overtime verdict against St. Joseph, 48-45. They were runners-up to Wheeling Central in 1959 and 1962. Wheeling Central was 20-2 in Catholic Tournament finals.
More recently – in 2010 during West's sixth year as Notre Dame coach – the Irish dropped a 59-52 state tournament quarterfinal round decision to the Maroon Knights.
The younger West was in the fourth grade.
"I think I got it going a lot earlier in the game (compared to the first two meetings)," said the point guard, who had 13 points in the first quarter. "We set the tone defensively. We were able to get clean rebounds and good shots."
The help came in the form of fast breaks, and while Notre Dame only had a one-point advantage on transition points, it was the ability to finish that set it apart.
"We had a lot of transition opportunities," West II said. "There's a lot more space … it wasn't 5 on 5, but more like 3 on 2 with the opportunities when the floor was spread. These guys did a good job of making layups when I was penetrating."
The attention given one of the state's best players – in all classes – provided open looks for sophomore Gabe Zummo and senior Noah Bohanna, who had 14 and 10 points respectively.
Coach West said that Bohanna provided early game successes for his team.
"The stats don't show it, but the deflections, the steals, the energy … the way Noah Bohanna played the first quarter," he said. "We kind of got going."
Notre Dame scored 28 points in the first quarter after the Maroon Knights' John Burkhalter hit a 3 for a 5-0 Wheeling Central lead. Notre Dame responded with 16 of the game's next 19 points and didn't trail again.
"They came out with a lot more energy and a lot more fire and took it to us from the beginning and we couldn't recover," Wheeling Central coach Mel Stephens said.
Wheeling Central received 17 points and nine rebounds from Owen Gainer. Brent Price added 13 points and eight boards and Burkhalter finished with 10.
This is the fourth visit and sixth game at the state tournament for West and Bohanna. The Irish lost in the semifinals to Charleston Catholic (50-38) when they were freshmen, before losing to eventual state champions Magnolia (49-48) and St. Joseph (54-50) in 2015 and 2016 respectively.
Bohanna played 20 of a possible 36 minutes in Notre Dame's quarterfinal win over Tucker in 2014 and West – who averaged 11 points his freshman year — was 5-for-5 from 3-point range and had 28 points in that 63-57 overtime verdict.
Zummo had 14 points and three assists and Bohanna had 10 points and seven rebounds. Jaret Mullooly contributed six rebounds, four assists and three steals and Todd Griffith came off the bench to added a game-high 10 rebounds.
—
Richard L. Stevens Jr.
Ravenswood Advances to Championship Game
By RICH STEVENS
A West Virginia high school basketball program's move from Class AA to Class A has a catch-22 feel.
Most often the reason is the community is suffering from depletion of jobs and population decline resulting in tumbling enrollment.
While a team's success would be traded for much-needed employment, often the low numbers help a program compete in the lower group.
Enter Ravenswood, which hopes to match the achievement of Tug Valley – win a state championship in its first season in single-A.
Coach Mick Price's Red Devils took another step closer to their first small school title in a 41-36 victory over sixth-seeded Madonna (18-9) in the first of two Class A semifinals at the Charleston Civic Center.
Second-seeded Ravenswood (24-2) will face the winner of the Wheeling Central-Notre Dame semifinal at noon on Saturday.
"That was a tremendous game, of course, I don't like the outcome," said Madonna coach Chris Blair, a 2003 graduate of the school. "It was well played, hard played, fans got their money's worth, could've been anybody's game."
Ravenswood lost the lead for the first time in the second half on a Joe Ewusiak basket with 5:20 remaining, but 8 seconds later Isaiah Morgan hit the first of back-to-back 3-pointers to return the advantage to the Red Devils. Morgan is 63-124 on 3-pointers this season, but is more than a one-trick pony. He also had eight of his team's 32 rebounds.
"They ran a play that we prepared for, the exchange off the wing, he runs off a double screen and our guy has to jump that pass … should've been a steal really," Blair said.
Madonna never regained the lead, holding the advantage for only 28 seconds.
"We wanted to get out and run on that," Morgan said. "(Point guard) Hayden (Mandrake) put it right in the pocket. The next play they ran for me and I knocked it down again."
Ravenswood won the battle in the paint, where it had an obvious mismatch with 6-foot-7 senior Riley Heatherington. The Red Devils outscored Madonna inside 18-8. Heatherington finished with just 12 points, but added nine rebounds and eight blocked shots.
Madonna stayed within striking distance with the help of Ravenswood's struggles at the foul line, where it was 9-of-19. Jayden Rhodes hit four of his six free throw attempts.
Ewusiak had 15 points and 13 rebounds to lead the way for Madonna, which was seeking its first trip to the finals since winning the championship in 2011. Tavon Jeter had 15 points and eight boards.
Morgan had 14 points and Rhodes 11 for Ravenswood. The Red Devils had just four players – Morgan, Heatherington, Rhodes and Stephen Dawson – score in the game.
The victory improves Price's career coaching record to 648-295 in 40 years at the helm, which includes one season at now-defunct Sistersville High.
—
Richard L. Stevens Jr.
Fairmont Senior Gets By Upstart Hoover
By RICH STEVENS
Herbert Hoover, the sentimental favorite at the 2017 West Virginia State High School boys basketball tournament, didn't have enough left in its tank to withstand the athleticism of defending Class AA champion Fairmont Senior.
Nevertheless, the Huskies sure made it interesting.
Coach Josh Daniel's team didn't let the Polar Bears run away and hide, but it also didn't wilt before dropping a 59-39 decision in Thursday's quarterfinal round game at the Charleston Civic Center.
Fairmont Senior (23-3) – which faces the winner of the game between Philip Barbour and Mingo Central at 7:15 p.m. Friday — averages 76.9 points per game, but didn't have half that through three quarters, leading 38-31.
"I knew the challenge we had ahead of us," Hoover coach Josh Daniel said. "The difference in the game was we turned the ball over 22 times and they scored 31 points off them."
Hoover used a disciplined 3-2 defense to stifle the Fairmont Senior offense, forcing the Polar Bears into impatience, resulting in quick shots.
"We looked at the stats after the game and when you're 3-of-16 (from 3-point range), we knew we were settling for threes," Fairmont Senior coach Dave Retton said. "We weren't getting the type of shots we want. Attack the zone has been one of our strengths all year, but we really didn't do that tonight."
The Huskies (13-14) survived games with Roane County, Lewis County, and Robert C. Byrd, winning by a combined 15 points.
The crowning achievement, however, was being among the final eight teams in Class AA, especially with what they had to endure since last summer.
Severe flooding in late June of last year devastated the community surrounding Herbert Hoover High School. The school was deemed a total loss after 7 feet of the Elk River entered the building. The Huskies practiced at the YMCA and played their games at Elkview Middle School until the regional, which was moved to George Washington High School. The middle school wasn't large enough to accommodate a state tournament play-in game.
Homes were destroyed and families displaced on and around U.S. Route 119, which runs along the Elk River in northern Kanawha County.
Despite the troubling situation, Hoover found a silver lining on the basketball court, winning five consecutive games between Dec. 27 and Jan. 20 and winning four straight before Thursday's loss.
"The whole community has rallied behind this basketball team," Daniel said. "Since our sectional game there have been more and more people coming all the time."
The Huskies couldn't rally for the upset, leading only once on a Chase King free throw to open the scoring. They trailed 20-10 in the second quarter, cutting the lead to 32-29 with 2:26 left in the third. Fairmont Senior opened a 43-33 advantage at 7:25 of the third. After Hoover scored the next six points, the Polar Bears closed the game on a 16-2 run.
"It's been that way all year," Daniel said. "We've been in some tough spots and our kids never gave up. The first quarter we realized how the game was going to be played. After the first quarter, it looked like it could get bad."
Since seeding the state tournament began in 2005, a No. 1 seed has never lost to a No. 8 seed in the Class AA division. In the 13 quarterfinal games involving the highest and lowest seeds, the average margin of victory is 24.5 points. That includes Poca's 30-28 win over Chapmanville in 2016 during which the Tigers utilized a stall.
Despite the loss, Hoover's Kody McGraw – who had seven points – managed to maintain perspective.
"It's been great," he said of Hoover's success this season. "The first state tournament in Hoover history … it's a great feeling, especially this year with losing the school.
King led Hoover with 16 points, 14 rebounds and three blocked shots. Zyon Dobbs led Fairmont Senior with 14 points, Tavon Horton added 13 and Dante Stills 11. Dobbs, Horton, Justin Lee, and Stills combined for 27 of their team's 36 rebounds.
—
Richard L. Stevens Jr.
 Chapmanville Downs Wyoming East in Quarterfinals
By RICH STEVENS
Wyoming East's rich tradition of success at the boys basketball State High School Tournament was no match for Chapmanville's depth during Thursday's Class AA quarterfinal round at the Charleston Civic Center.
Spearheaded by sharp-shooter Drew Williamson, the third-seeded Tigers steamrolled the Warriors in a 65-42 victory, sending coach Brad Napier's team into the semifinals for the first time in school history.
The Tigers (22-4) move to the state semifinals at 11:15 a.m. on Friday when they will face the winner of the quarterfinal matchup of Bluefield and Lincoln.
"They guarded the ball very well and played aggressive defense," said first-year Wyoming East coach Derek Brooks. "From what we saw on film, they usually sag on defense."
The Warriors (15-11), who were making their 10th appearance in the state tournament since the school opened in 1998, couldn't recover despite turning a 15-point deficit in the first period into trailing by seven at the half.
Junior Drew Williamson, the son of former Harts and Marshall University star Andy Paul Williamson, finished with a team-high 23 points. Although he was one of only two Chapmanville players in double figures, the Tigers had three players score at least six points.
"We really talked about our defensive intensity," said Williamson, whose brother Paul Herbert Williamson was an all-state player at Logan. "We wanted to get it back to where it was in the first quarter. We wanted to get out the first three minutes of the third and pretty much end it."
In turn, the Chapmanville defense improved its offensive output. The Tigers were 3-of-10 from 3-point range in the first half and 3-of-5 in the second. The Tigers also were 13-of-23 overall from the field in the second half.
Senior Corey McKinney averaged 10 points in his final high school season for East, but managed just six on Thursday, hitting only 1-of-7 field goal attempts.
"They guarded me pretty good," said McKinney, whose team was 6-of-21 from 3-point range. "They know we're a shooting team. I couldn't get any open shots."
Zach Cook had 10 points and 10 rebounds for the Warriors and Dylan Brehm added 10 – five below his season average.
Obinna Anochili-Killen finished with 11 for the Tigers.
n  Williamson, a 2016 Class AA All-State first-team member, had 10 points in Chapmanville's 30-28 quarterfinal loss to Poca last year.
n  Napier spent three years as coach at Mingo Central (2012-15) before being hired at Chapmanville. He was 41-32 with the Miners and is 38-15 in his first 53 games with the Tigers.
n  Brooks is the son of former Mullens and West Virginia University star Herbie Brooks, who is an assistant for Wyoming East. He said this season was fun for more than just basketball.
"Coaching (with my dad) was great," Derek Brooks said. "Growing up, he was off doing his thing with basketball, overseas for 6 or 7 years. We did a lot of catching up."
n  Derek Brooks' father led Mullens to three consecutive Class A state championships (1981-84), playing for five-time state championship coach Don Nuckols, who died on Feb. 16.
—
Richard L. Stevens Jr.
Morgantown Eliminates GW in Quarterfinals
By RICH STEVENS
The Morgantown High School boys basketball team has won at least 20 games each season since Dave Tallman was hired as coach in 2014, and the Mohigans show no signs of slowing.
The fourth-seeded Mohigans took advantage of horrendous first-half shooting by George Washington and held off the Patriots with a 56-45 victory in the Class AAA quarterfinals of the State High School Basketball Tournament at the Charleston Civic Center on Thursday.
Morgantown (20-6) moves to the 5:30 p.m. Friday semifinal against No. 1 seed Capital, where the Mohigans will seek their second consecutive trip to the title game. Morgantown won the 2016 championship while becoming the first team since Stonewall Jackson in 1985 to finish a season undefeated.
"I thought our defense won that game for us," said Tallman, whose Mohigans (20-6) held the Patriots to 32 percent shooting. "We're not that pretty on offense and I thought we did a great job on the glass. We turned the ball over way too much."
The Mohigans had 14 turnovers in the first half, but finished with only 18.
While George Washington (19-7) sought to increase the tempo, coach Rick Greene admitted his team was shooting too early in some possessions.
"We were maybe a little quick, but that's what we do," Greene said. "The guys shooting them can make them. We wanted to drive maybe a little more against their zone. Initially, anyway, you hope you make some shots. We wanted to drive a bit more because we weren't hitting shots."
The Patriots were 1-of-13 from 3-point range, missing their first 10 tries before Alex Cook ended the drought at the 1:17 mark of the fourth to cut the lead to 48-40.
Greene, in his 24th season as coach of the Patriots and a member of the first GW team to win a state title (1971), credited Morgantown's defensive effort, but it came with a caveat.
"I thought they were totally prepared, they played well and played like they've been here," Greene said. "I think we were a better team than we showed, but you only get one shot at this level."
Their opportunity never really came. Morgantown didn't trail, scored the game's first nine points, and, after seven unanswered points for the Patriots, scored 10 of the next 13 points to lead by 10.
"Their style of play is really good when they're up," Greene said. "Maybe not as much when they trail, but we didn't do the little things. We weren't sharp and they were a little sharper than we were."
Next for the Mohigans is a date with Capital, which avenged a 2016 double-overtime semifinal loss to Parkersburg South by defeating those Patriots with an 85-65 rout in Wednesday's quarterfinals.
In its five trips to the state tournament since 2006, Capital has been no worse than the No. 4 seed, but was upset in either the quarterfinals or semifinals every year.
Morgantown, which is 67-12 under Tallman, received a game-high 24 points from Torin Hanson against GW with 15 of his points coming from the foul line in 18 attempts. Nicky Solomon, an integral part of Morgantown's title run last year, had 14 points and six rebounds.
Guard Tracy Conliffe had 10 points and nine rebounds for the Patriots, while Justin Phillips – who missed nine games this season because of various injuries – also had 10 points.
The Mohigans are in the state tournament for the 25th time, are seeking their second consecutive berth in the championship game after three straight seasons of losing in the quarterfinals.
"Nobody thought we would be here, playing on Friday, except for the guys in our lockerroom and maybe even some of them (didn't think we would be here)," Tallman said. "We thought our defense would carry us."
—
Richard L. Stevens Jr.
Notre Dame Holds Off  Pesky Greyhounds
By RICH STEVENS
Notre Dame coach Jarrod West has no problem trusting his son.
His son, also Jarrod West, now has no problem trusting his teammates.
As a result, the fourth-seeded Irish have won a state tournament game for the first time since 1997 in a 66-45 verdict over No. 5 Gilmer County (21-5) in the tourney's Class A portion on Wednesday night at the Charleston Civic Center.
Notre Dame (21-5) advances to Friday's 1 p.m. semifinal against top-seeded Wheeling Central. The Maroon Knights (24-2) eliminated Valley by a 67-52 count.
The younger West will play in his fifth state tournament game, losing to Charleston Catholic in the 2014 semifinals and to Magnolia and St. Joseph in the 2015 and 2016 quarterfinals respectively.
"(This is) the most complete team I've had," said coach West, who took over Notre Dame in 2005. "Jarrod always had to score 30 for us to win. I told him this year he had to find a happy medium and trust his teammates."
He finished with 16 points, nine rebounds and nine assists, perhaps cementing his status as the state's top small school player. Notre Dame had 16 assists on 25 baskets.
The Irish led by only three at halftime after squandering an 11-point lead, but Notre Dame held the Titans to five in the third – on a Gunnar Haley 3-pointer and Carter Springer layup. Notre Dame went to cruise control and finished off its second state tournament victory in nine trips.
"I told them that we have been here three years, had double-digit leads and when will we grow up and finish," the head coach said.
Junior Jared Fagan finished with 14 points and six rebounds in a mere 17 minutes of action for Notre Dame. Jaret Mullooly and Robert Griffith had nine points apiece in a balanced attack.
Springer's 15 points led the way for Gilmer, while Trey Shuff – who averaged 20.2 points per game – was held to 10, hitting just 1-of-10 from the floor and missing all five of his 3-point attempts.
Notre Dame now faces the Maroon Knights, who ousted the Irish in the 2010 quarterfinals 59-52. The other Class A semifinal is set to tip off at 9:30 a.m., pitting second-seeded Ravenswood (23-2) and sixth-seeded Madonna (18-8). The Blue Dons stunned previously unbeaten Fayetteville, 44-32.