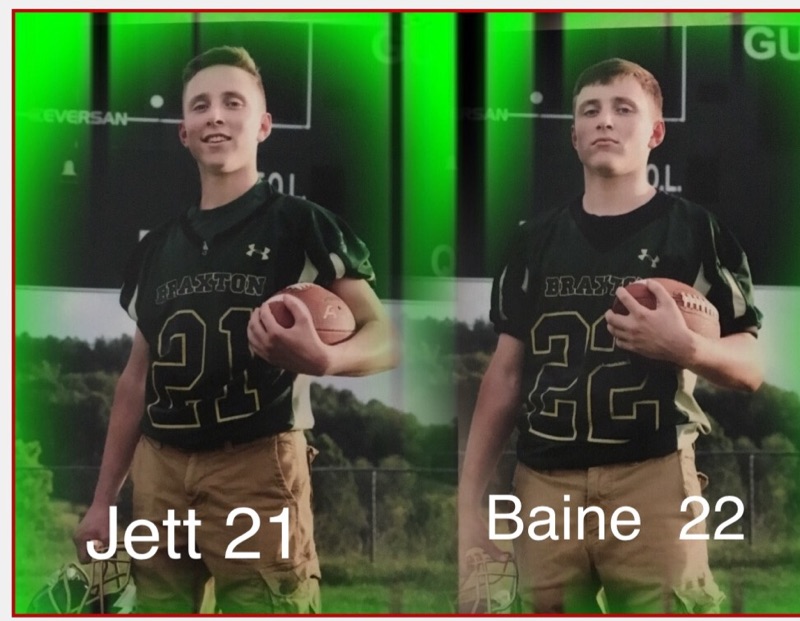 Cover photo:  Submitted by Braxton County HS
Take a quick look at 2018 Braxton County Football and you quickly find a team that is struggling for wins.  The Eagles have experienced what many class AA and A schools regularly do with regard to waves of talent coming through every few years.
Braxton County assistant football coach Keith Greene commented, "We graduated 17 seniors from our 2017 squad and 12 of them were starters."  Consequently the Eagles have had to rebuild in 2018.  "We only have 3 seniors starting" Coach Greene added.  "What we really have is a slew of sophomores."
In the pack of promising sophomore talent there is a rare treat for Braxton High fans.  A rare set of twins that have accepted key roles in rebuilding the Eagles program.  Baine and Jett Cogar are identical twin brothers that just happen to be exceptional athletes.
Baine Cogar sets up at tailback on offense as well as the defensive backfield.  Jett Cogar lines up behind center as the QB on offense while playing defensive back on the other side of the ball.  Both brothers have worked themselves into starting positions.  Talk about making it difficult for opposing play reads, these two have the innate ability to read each other's moves before they happen.  "Yes, I kind of know where my brother is going with the ball when I'm running a pass route," stated Baine.   "I agree," added Jett.  "It's almost like having an audible system without the audibles." he added.
Coach Greene said, "Although the team is struggling to find wins in 2018 it's exciting to see these two brothers along with their teammates get better with each game."  We know we're building something special here."   Special is an understatement.  The Eagles have the advantage of building around a set of talented young athletes that have excelled at multiple sports.   Hoops coach Bill Lunsford commented, "Baine and Jett both have good footwork.  They're quick and make good reads."   Jett pointed out, "I have an ability to make people miss me on the field.  So far I haven't had that big hit on me as QB.  I know it's coming but thus far my feet have delivered (laughing)."
Both coaches pointed out similar assets for Baine, saying he had a great ability at stop and go patterns.  Besides playing both ways, the twin brothers also play  on kickoff and punt return teams.  Being sophomores, both coaches also pointed out Baine and Jett's need to get stronger in the weight room.  "That will come in due time as their bodies catch up.  They both have excellent work ethic.  They will get there." stated Greene.
For a more personal inside look at these two talents, RSN Sports had the opportunity to ask a series of questions to each separately.  Would they match up?  Would they run the veer?
Question                                                                                                                                                              Baine                                   Jett
What's on your play list?                                                                                                                                 Hip hop                              Hip hop
Favorite food                                                                                                                                                  Lasagna                          Loaded Nachos
Favorite place to chill.                                                                                                                             Game room at home                My room
Sport outside football?                                                                                                                                     Basketball                          Basketball
Favorite subject in school?                                                                                                                                 Math                                     Math
After high school.                                                                                                                                            Air Force                           WVU Pharma
Toughest place to play.                                                                                                                                Roane County                  Liberty Harrison
Favorite part of practice.                                                                                                                         Running offense.               Running offense.
Up late or up early?                                                                                                                                           Up late                                     Both
Summer or winter?                                                                                                                                            Winter                                   Winter
Offense or defense?                                                                                                                                               Offense                             Offense
Dress up or down?                                                                                                                                         Down                                 Down/casual
Favorite girls sport to watch?                                                                                                                          Volleyball                               Soccer
Sports car or truck?                                                                                                                                                 Truck                               Sports car
Dream vacation?                                                                                                                                                   California                          Mountains
OK, so it's obvious they're not exactly "identical" when it comes to lifestyle but pretty close.   Coach Greene summarized,  "These two are competitive but at the same time very close as you would suspect.  They make each other better.  For that matter they make everyone around them better.  Continuity as a team is something every program strives for.  Even though we're going through a tough stretch on the schedule, there's been no factions on this team.  We have good young men here that have a goal that may be a couple of years down the line and it can be credited in no small manner to Baine and Jett Cogar."
Editor's note:  To see these two and the Braxton County Eagles in action each week fans can view "Braxton Live" on Facebook.