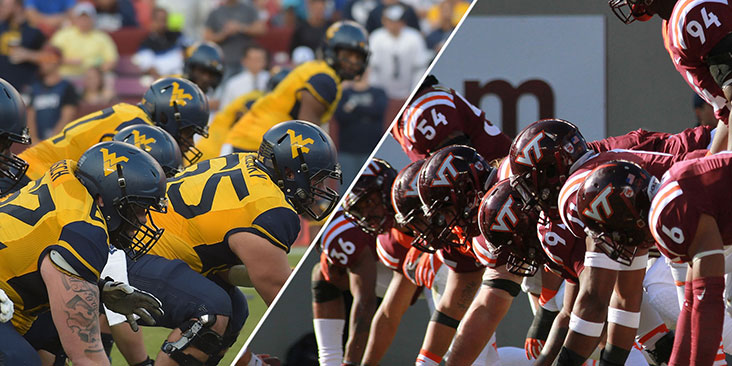 MORGANTOWN, W.Va. – West Virginia University and Virginia Tech have announced that their season-opening football game at FedExField in Landover, Maryland, has been moved to Sunday, Sept. 3 at 7:30 p.m. and will be televised nationally by ABC.
The longtime rivals will battle for the Black Diamond Trophy for the first time in 12 years. The series dates back to 1912 and is the fifth-longest in WVU history (51). This also marks the third time West Virginia has played at FedExField, defeating James Madison, 42-12, in 2012, and BYU, 35-32, last year.
Mountaineer Athletic Club (MAC) members for 2016 and 2017 and 2016 football season ticket holders have the first opportunity to order tickets through the Mountaineer Ticket Office to be seated in WVU's allotment.
MAC members and season ticket holders can log into their online account at WVUGAME.com to request priority tickets to the game or return the priority request form before the April 28 priority deadline.
For a FedExField seating chart, visit WVUsports.com and click Seating Charts under the Tickets tab.
WVU does not have all seats in each shaded section.
Ticket prices in WVU's allotment range from $140 for lower level sideline seats to $65 for upper level tickets in the corner and end zone.
Fans are encouraged to request as many tickets as they would like at the desired price point and every effort will be made to accommodate each request. All requests will be filled within the best available price level based on 2017 MAC annual giving level and priority points rank within each level.
If the price level requested is not available, seats will be assigned in the next best available price level.  If available, information related to general public ticket availability will be announced at a later date.